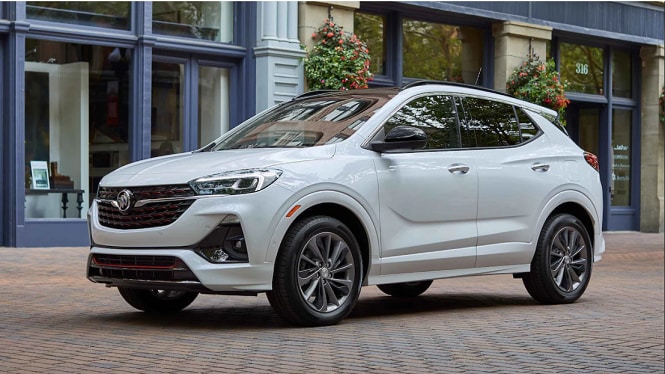 Whether you're driving to work in Canton, school in Akron, or a weekend trip on Lake Erie, you need an SUV that's known for its reliability, comfort, and style. The 2021 Buick Encore for sale was named the second-most reliable vehicle of 2021 by Consumer Reports, but even that wasn't enough for Buick. The all-new Buick Encore GX available is a slight upgrade on the base model, with more space and a slightly more efficient engine. However, if you value packability on city streets or better value, the Buick Encore is a very capable SUV.

SIZE & SPACE: BUICK ENCORE VS. ENCORE GX
Both the Buick Encore and the Buick Encore GX available in North Canton are five-seater SUVs with plenty of great features, such as an 8-inch infotainment touch screen, keyless entry, and 18-inch wheels. If your family or friends are a bit on the taller side, the new Buick Encore GX has a slightly more legroom than the Buick Encore. If you're inclined to take a lot of gear with you, the Buick Encore GX has 4.7 cubic feet more cargo space than the 2021 Buick Encore, which is enough space for one more big suitcase or cooler.
Of course, that extra space in the 2021 Buick Encore GX means it'll be a little harder to maneuver in tight city streets. In contrast, the three-inch-shorter Buick Encore will be easier to parallel park, make U-turns, or fit in tight spaces when tailgating.
Power and Efficiency: Buick Encore vs. Encore GX
Both of these crossover SUVs boast powerful engines that can pull over 135 horsepower to zoom through the city and the countryside. The 2021 Buick Encore for sale near Cleveland uses a slightly older 1.4-L turbocharged four-cylinder engine, while the Encore GX houses a 1.2-L turbo three-cylinder standard, or an available 1.3-L option with 155 hp. The newer engines in the GX get better gas mileage than the standard Encore, even with the all-wheel drive transmission option.
All these gains on the Buick Encore GX come with a price increase over the Buick Encore, of around $900 for the base model. So if you're looking for a deal on a new Buick Encore, either as a first subcompact SUV or a quick mover around Ohio, the Buick Encore is a great option.
Buick Encore vs. Encore GX Interior
The Buick Encore and the Buick Encore GX have similar interiors, however, there are a couple differences between the two. The Buick Encore interior has a 60/40 split-folding bench seat, cloth with leatherette seat trim, and a door sill plate cover. However, the Buick Encore GX interior has a 40/60 split-folding rear bench seat, cloth with leatherette or leather-appointed seating, and ten-way power driver's seat and eight-way front passenger's seat.
Clearly there's a noticeable difference between the Buick Encore interior and Buick Encore GX interior. However, these two Buick SUVs have a significant similarity.
2021 Buick Encore and Buick Encore GX in North Canton
Regardless of which you choose, Ron Marhofer Buick GMC in North Canton can help you find your new Buick SUV! Come to our Buick GMC dealership, conveniently near Cleveland, to find a wide selection of new and used Buick SUVs, including the new Buick Encore and Buick Encore GX, today. Our friendly staff, comprehensive service packages, and financing deals are here to help you find your new Buick SUV!